Description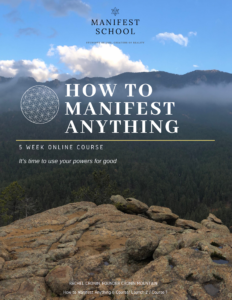 Here is what students will learn:
💫Week 1: The Power of Clarity & Feeling
💫Week 2: Mindset Bootcamp + Vision Boards
💫Week 3: How to Take Inspired Action + Environment
💫Week 4: The Power of Gratitude
💫Week 5: Creating a Consistent Manifesting Practice + Celebration
This course is for:
🌟•Dreamers
👩‍💻•Entrepreneurs
🌠•Anyone wanting to attract something into their life
🎉•Anyone who desires more abundance
💎•Anyone who wants to call in prosperity
💛•Beginners—those just starting out in learning the art of manifesting
💔•"Difficult Cases"—those that have tried manifesting but are not seeing the results they desire and need help troubleshooting for better results
🖤•Skeptics + Newbies—those that are skeptical about the art of manifesting and want to experience it for themselves or brand new to manifesting (never consciously tried it before)
Though you can do this course at your own pace, it is designed to be completed over the course of 5 weeks. Pick a day of the week to dive into your manifesting lessons. Put it on your phone calendar with reminders.
✨On-Demand Course Includes:✨
• 100 Page Manifesting Workbook
• 24/7 E-mail Support
• Access to Private Facebook Group
• Weekly Live Question and Answer Sessions in the Facebook Group
• Private Training Videos
• Lifetime Access to Content
✨Graduates of the course will know & have created:✨
• How to Manifest
• How to Strengthen your Intuition
• Meditation Practice
• New Vision Board or Vibration Board
• New Manifesting Mindset Training + Techniques
• Gratitude Practices
• How to Get Clear on What you Desire
• Manifesting Routines
• Actionable Steps to Create Life on Purpose
• Cleansing your Environment
• Troubleshooting skills to increase your vibe, turn your energy around and get back to a positive manifesting state
✨What Students Need:✨
• Learning attitude
• Willing to get out of their comfort zone
• Internet access
• Poster board or cork board
🌕Early Bird Registration is available now: $222
Regular pricing is: $444, so act quick!
🙋‍♀️If you would like to become a Manifest School student, enroll now!